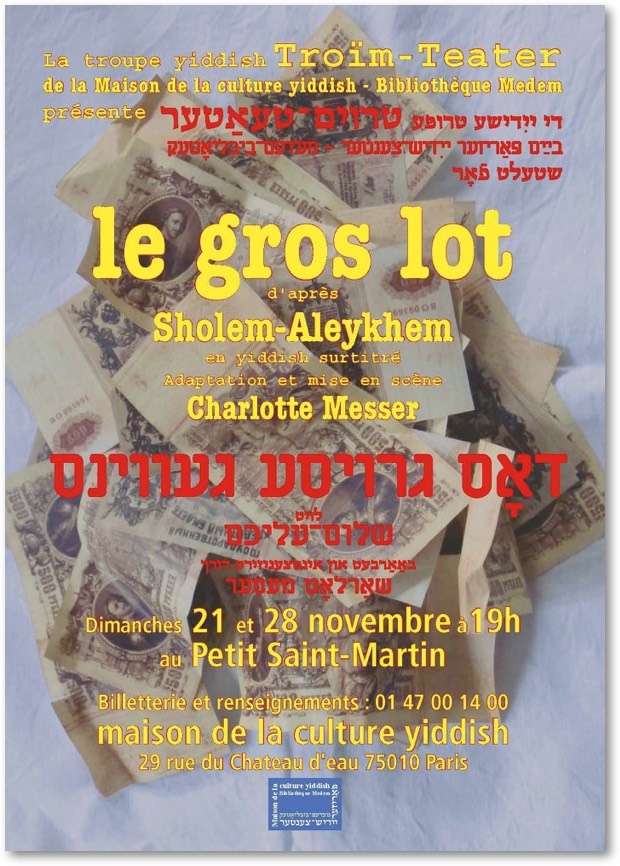 DOS GROYSE GEVINS

THE LOTTERY
SHOLEM ALEYKHEM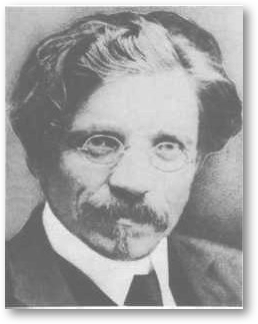 SHOLEM ALEYKHEM (1859 – 1916)
Probably the most famous Yiddish writer and humorist of the 19th and early 20th centuries, Sholem-Aleykhem (his real name was Sholem Rabinowitch) was born in 1859 in the family of a wheat merchant, a supporter of the Jewish enlightenment movement Haskalah.
Young Sholem received a traditional Jewish education and later attended a Russian secondary school. He wrote his first works in Russian and Hebrew, but very soon switched to the language of the people, to Yiddish. At that time he took the pseudonym of Sholem-Aleykhem (a popular and hearty Jewish greeting which means "peace to you"), in order to avoid conflicts with his family and friends, for whom writing in Yiddish was not an honorable pursuit.
He is considered "the father" of modern Yiddish literature. His work is abundant and various: short stories, novels, tales for children, monologues, epistolary novels, theatre plays. He had a special ability to paint characters typical of Jewish life in the small towns and cities of the Pale of Settlement. Some of his novels or stories, in addition to his plays, were adapted for the stage and screen. The famous musical Fiddler on the roof is an adaptation of the large work Tevye der milkhiker (Tevye the milkman). It was put on screen, played in English on Broadway, in French in Paris, in Polish in Warsaw and even in Japanese in Tokyo.
The complete works of Sholem Aleykhem make up a set of about thirty volumes. His specific trademark is a typically Jewish humor intertwined with tenderness, expressed in a rich and popular Yiddish.
Sholem Aleykhem died in New York on May 13, 1916. His funeral was followed by over 100 000 people.
PERFORMANCES
LYON - FRANCE
Centre Hillel-Lyon
2 May 2010
PARIS - FRANCE
Théâtre du Petit St Martin
30 May 2010
31 May 2010
21 November 2010
28 November 2010
Centre Rachi
13 March 2011
7 February 2012
Espace Reuilly
17 April 2012
METZ - FRANCE

Journées Européennes de Culture Juive - Lorraine
Salle Braun
20 October 2012
21 October 2012
MONTRÉAL - CANADA
International Yiddish Theater Festival
2011
15 June 2011 (twice)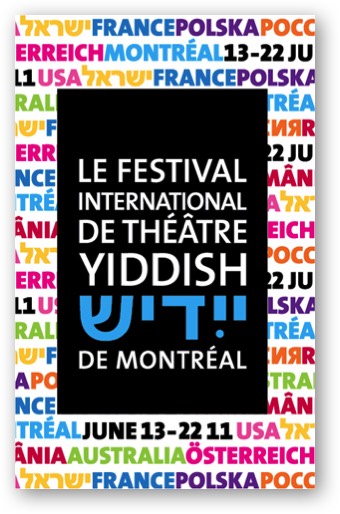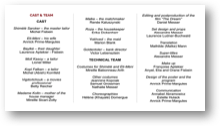 CAST & TEAM
CAST
Shimélé Saroker – the master tailor

Michel Fisbein


Eti-Méni – his wife

Annick Prime-Margules


Baylké – their daughter

Laurence Aptekier - Fisbein


Motl Kasoy – a tailor

Lionel Miller


Kopl Falban – a tailor

Michel (Abish) Kornfeld


Vigdortchouk – a movies professional

Betty Reicher


Madame Koltn – mother of the house manager

Mireille Sicari-Zolty


Malke – the matchmaker

Renée Kaluszynski


Roza – the housekeeper

Erika Dickenherr


Yokhved – the maid

Marion Blank


Goldentoler – bank director

Victor Lebensztein


TECHNICAL TEAM
Costumes for Shimélé and Eti-Méni

Mireille Babonneau-Arth


Other costumes

Jeannine Kopciak
Samuel Grossman
Nathalie Messer


Choreographies

Hélène (Khayalé) Domergue


Editing and postproduction of the film "The Dream"

Daniel Messer


Set design and props

Alexandre Messer
Laurence Ludner-Buchwald


Translation

Mathilde (Malke) Mann


Super-titles

Alexandre Messer


Make up

Françoise Aptekier
Anyel, Elia and Orane Fisbein


Design of the poster and the program

Annick Prime-Margules


Communication

Annabel Abramowicz
Estelle Hulack
Annick Prime-Margules
THE LOTTERY
A humble Jewish tailor in a provincial city of Tsarist Russia, Shimele Saroker, never loses his good temper, in spite of all the debts he is crippled with. He is unable to pay his rent and faces expulsion from his modest dwelling.
Suddenly, in a twist of fate, he wins the jackpot of 200,000 rubles in the bank lottery and becomes one of the richest people in town.
What will happen now in the lives of Shimele and his family? How will the newly acquired riches change the behavior of all the protagonists? This the subject of the play, Dos groyse gevins (The Lottery), after Sholem-Aleykhem, spoken in the flavorful Yiddish of which he was a master.
The play was written in New York in 1915, a short time before the author's death. It was staged a number of times by different Yiddish troupes. Its most famous adaptation was probably that of Alexander Granowski at the Moscow Yiddish theatre in 1923, under the title "200,000".