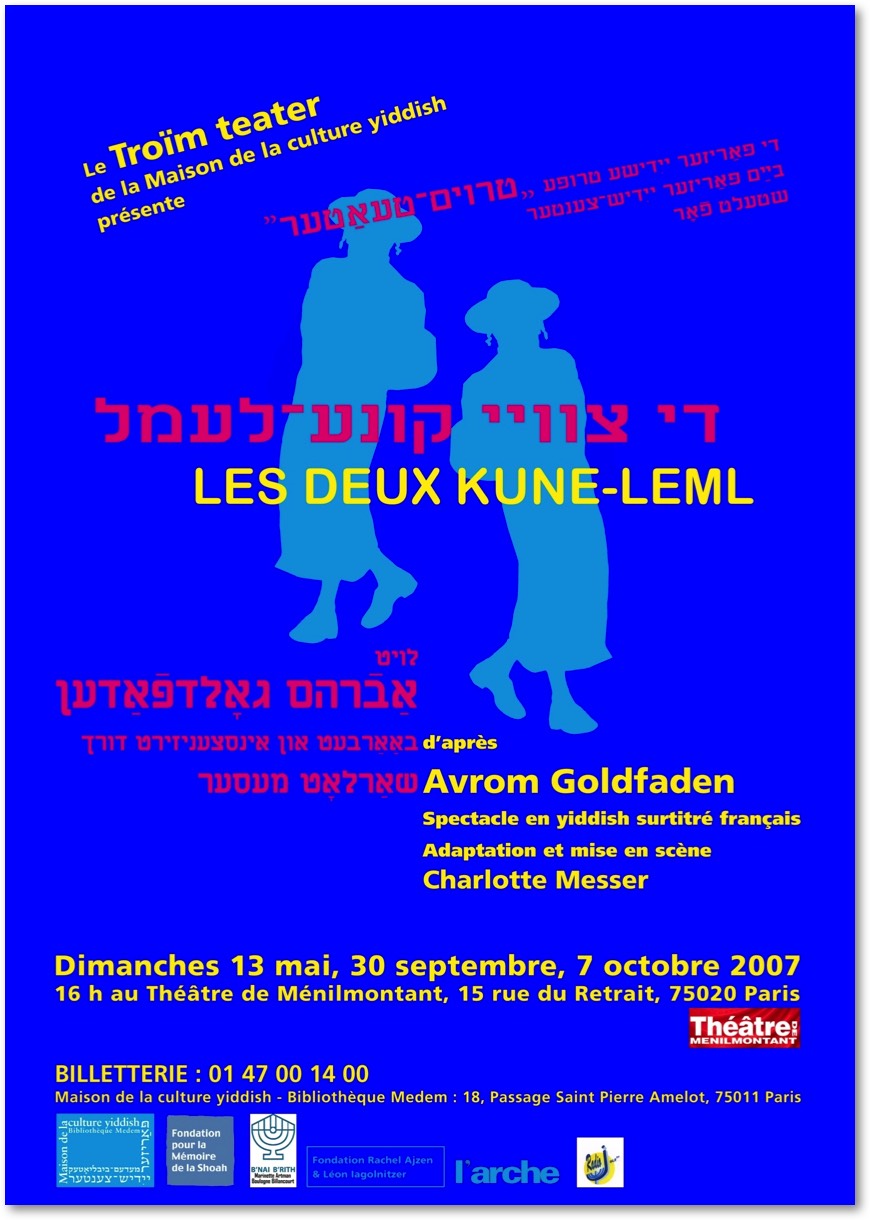 DI TSVEY KUNE-LEML

THE TWO KUNE-LEML
ABRAHAM GOLDFADEN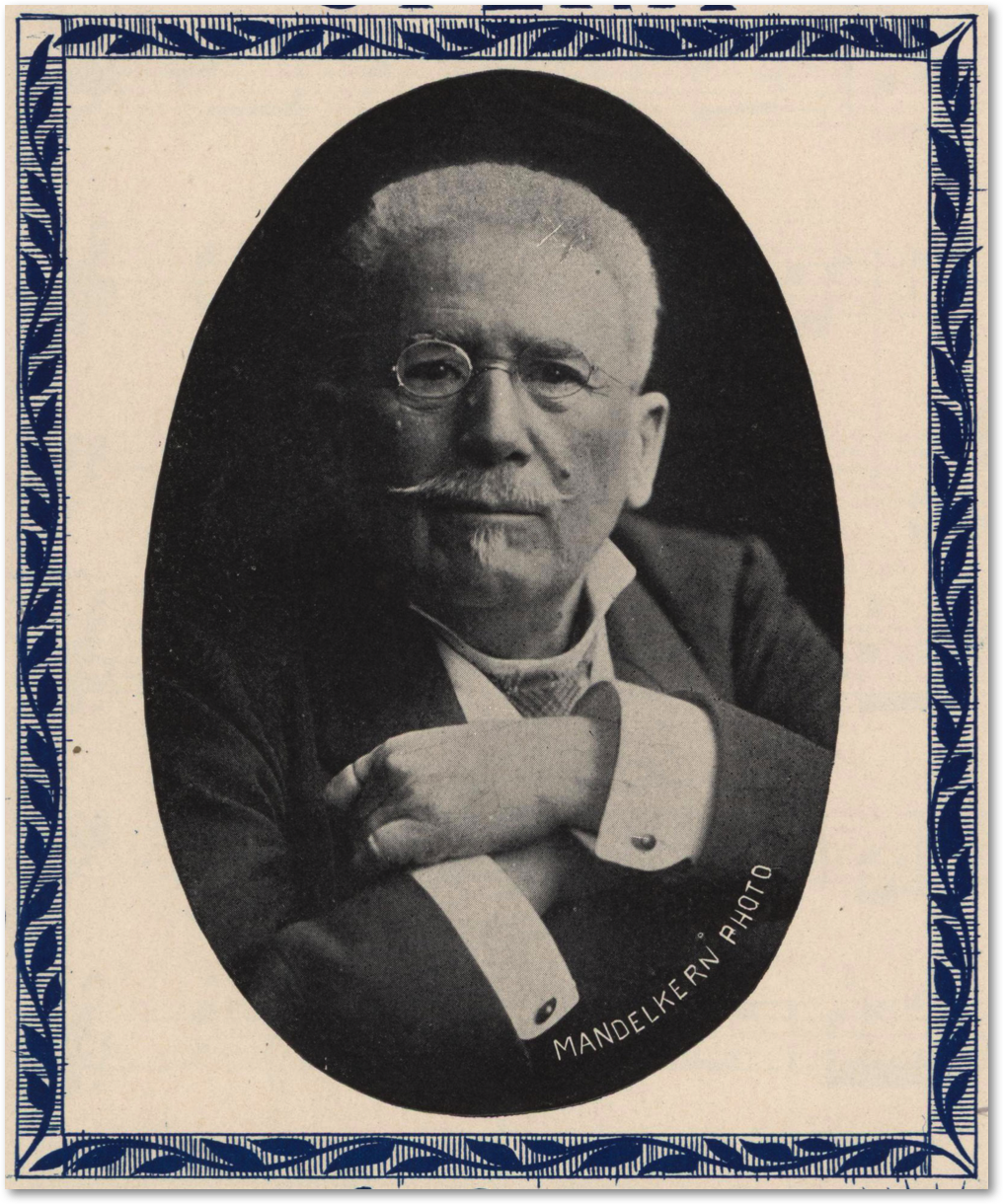 ABRAHAM GOLDFADEN
Abraham Goldfaden is considered to be the « father » of the Yiddish theatre. He was the one who created, in the fall of 1876, in Yass (Rumania) the first professional Jewish troupe, playing in Yiddish for a paying audience, outside of any festive context.
He was born in 1840 in Volhynia, a province of the Russian empire, to a family of a follower of the Haskalah movement (Jewish Enlightenment). After graduating from the Rabbinical School in Jitomir he starts a journalistic career in the Hebrew and Yiddish press. Since his childhood years he writes poetry and songs in both Hebrew and Yiddish. By the time he graduates from the Rabbinical School, in 1866, he already has published several of his poetical works in the press and in book issues; his songs are already known across the whole Pale of Residence, propagated by popular singers, and some of them entered the Yiddish folklore.
In the fall of 1876, while on a business trip to Yass, in Rumania, he creates the first Yiddish troupe, composed of only two actors, and gives his first performances. From then on his whole life will be dedicated to the Yiddish theatre. He writes over 60 plays, almost all of them played by different theatres, but some of them never published in print.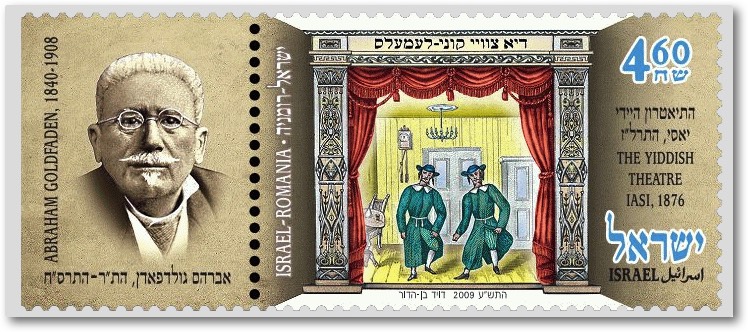 The play "Der fanatiker, oder di beyde kune-leml" was written in 1877 and played for the first time in Odessa in 1878. The different characters of Goldfaden's plays, such as Kune-Leml, Shmendrick, Hotsmakh or Bobe Yakhne became familiar not only to theatre goers, but to the Jewish public at large. The composite first name Kune-Leml entered the Yiddish language as a common substantive kune-leml, designating a fool, a booby, a simpleton – an individual even more risible than "schlemiel" or "shlimazl"
In addition to writing plays, Goldfaden managed theaters, directed plays, composed music for his plays, was active in journalism and in the Zionist movement.
He passed away in New York in 1908
PERFORMANCES
BOULOGNE-BILLANCOURT - FRANCE
Espace Landovski (B'nai B'rith)
18 March 07
PARIS - FRANCE
Théâtre de Ménilmontant
13 May 2007
30 September 2007
7 October 2007
Théâtre des Deux Portes
5 February 2008
Théâtre Le Petit St-Martin
21 September 2008
VIENNE - AUSTRIA
The Yiddish Culture Week
25 November 2008
26 November 2008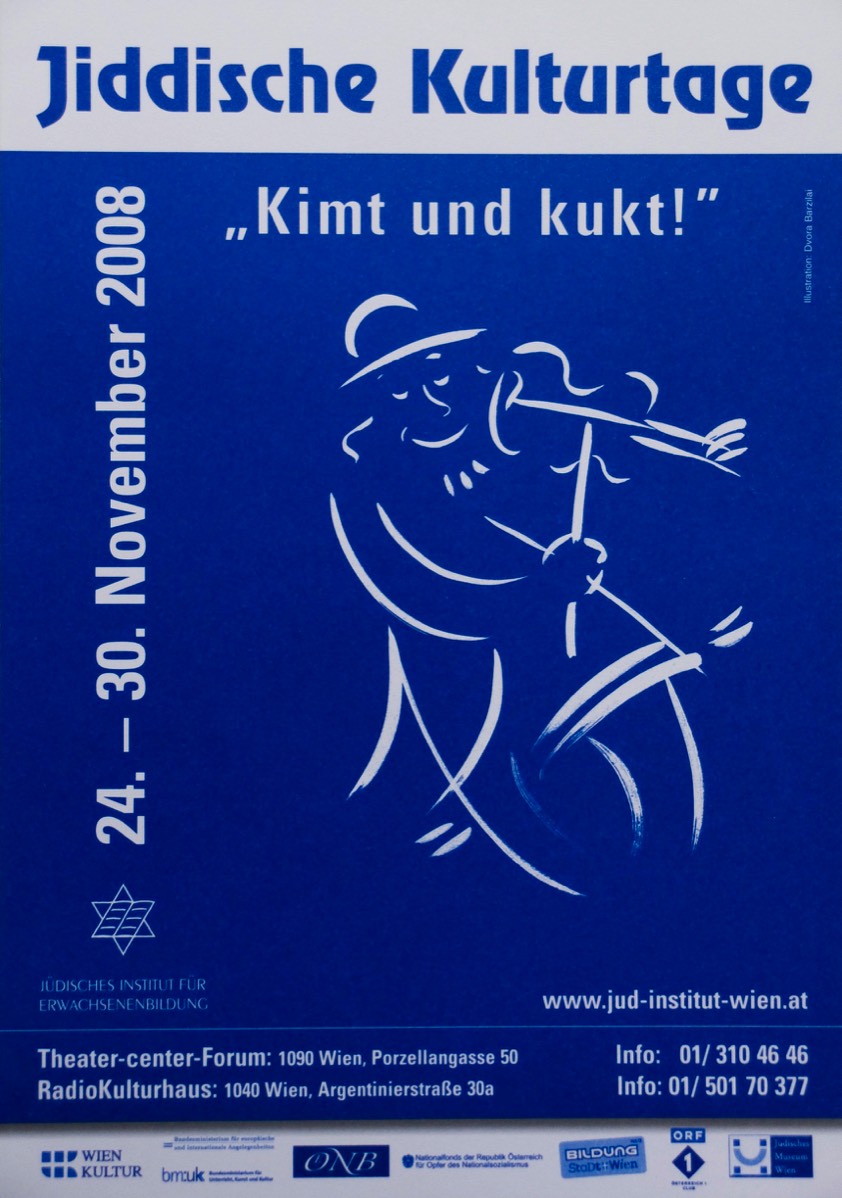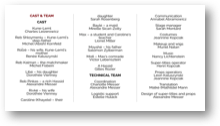 CAST & TEAM
CAST
Kune-Leml
Charles Leizerowicz
Reb Shloymeniu – Kune-Leml's step-father
Michel (Abish) Kornfeld
RoÏzé – his wife, Kune-Leml's mother
Renée Kaluszynski
Reb Kalman – the matchmaker
Michel Fisbein
Libé – his daughter
Annick Prime-Margules
Reb Pinkas – a rich Hassid
Alexandre Messer
Rivké – his wife
Dorothée Vienney
Caroline (Khayele) – their daughter
Laurence Aptekier - Fisbein
Baylé – a maid
Mireille Sicari-Zolty
Max – a student and Caroline's teacher
Lionel Miller
Moyshé – his father
Salomon Zylberman
Motl – Max's comrade
Victor Lebensztein
A Hassid
Gilles Rozier
TECHNICAL TEAM
Coordination
Charlotte Messer
Alexandre Messer
Logistic support
Estelle Hulack
Communication
Annabel Abramowicz
Stage manager
Sarah Montard
Costumes
Jeannine Kopciak
Makeup and wigs
Muriel Natan
Music
Nancy Lichtenstein
Super-titles operator
Henri Kopciak
Props operators
Léon Kaluszynski
Jeannine Kopciak
Translation
Malké (Mathilde) Mann
Design of super-titles and props
Alexandre Messer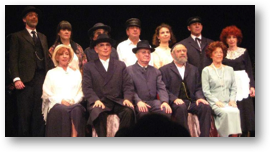 THE TWO KUNE-LEML
Initially written as an operetta, this play entered the « classical » Yiddish repertoire and was played by almost all Yiddish theaters under different forms : operettas, burlesque, musical comedies, etc.
A wealthy Hassid, reb Pinhas, wants to marry his lovely daughter Caroline to a young man from a "noble" Hassidic family. He calls on a match-maker who suggests a certain Kune-Leml, son of reb Shloyme, a prominent figure in the Hassidic society of a neighboring town. The potential groom has a few "little" flaws: he is half-blind, he limps, he stutters and is not very bright. However because of his lineage he is considered a good match by his future father-in-law.
Caroline, on the other hand, is a bright and enlightened young lady who studies secular subjects with a private teacher, Max, a medical student and a physician's son. They fall in love with each other, but obviously, reb Pinhas opposes such a marriage, since Max is not part of the Hassidic world.
Max knows Kune-Leml, who happens to be the adopted son of his uncle, the same reb Shloyme. He designs a deception scheme to make believe he is Kune-Leml : he will dress like him, imitate his behavior and way of speaking, including all his flaws. He hopes this way to marry Caroline.
The alternative appearances of the "real" and the "fake" Kune-Leml create ambiguous and comical situations. The climax is reached when the two Kune-Leml face each other and when the "real" one starts doubting about his own identity.
At the end, thanks to a clever ruse, Max will marry Caroline and the "real" Kune-Leml will marry the match-maker's daughter. The humor of the play is underlined by the vivid expressions of the Yiddish language.